Birthday Cake Blondies!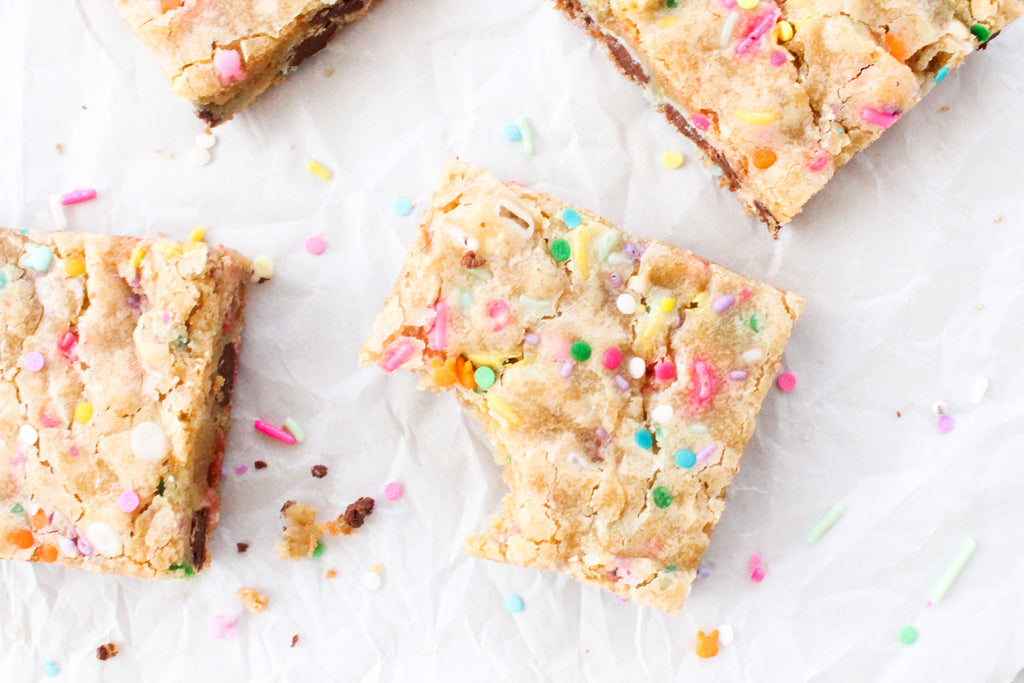 When we first came out with our birthday cake frappe, we knew we were about to celebrate every day like it was our birthday, something sweet, festive, and indulgent! But when we found out blondie day was coming, we had the sweetest epiphany...birthday cake blondies. There's so many recipes out there but we decided to take the careful balanced flavor we created in our frappe blend and infuse it in a recipe that makes cooking from scratch easy. With shortcuts like these, these blondies are definitely more fun - to make!
A lot of people confuse blondies and brownies, blondies use vanilla instead of cocoa but the end result is a dense crumbly square that can have all sorts of toppings. Usually they don't have frosting but we decided to break some rules and you'll be glad we did because this drizzled white chocolate is a winner! Take a bite into a buttery cakey delight that takes less 30 minutes to make and will make anyone feel special.
Ingredients:
1/2 single serve packet Frozen Bean birthday cake frappe

8 tablespoons or 1 stick unsalted butter, melted

1 cup lightly packed dark brown sugar

1 large cold egg

1/4 teaspoon kosher salt

3/4 cup all-purpose flour

¾ cup sprinkles (mix and match if you'd like!)
To get started, preheat your oven to 350 F. In a bowl,
whisk the sugar and butter until they're incorporated. Add in the eggs and beat it into the mix. Give your arms a mini workout before our baked treats haha! It'll feel almost like a caramel glaze.
[gallery size="medium" ids="4064,4068,4063"]
Now take your dry ingredients with the flour, baking powder, birthday cake frappe mix, and salt. You can filter it through a sufter to aerate them if you like your consistency to be fluffier and less dense.
Add this in intervals to our mixture and whisk. Once it's incorporated, fold in sprinkles. Optionally, you could also fold in white chocolate chips if you have a particularly big sweet tooth!
[gallery size="medium" ids="4056,4059,4060"]
Grease or place parchment paper in the tray (we like coconut oil for the extra boost it adds) you are using and pour the mixture in, smoothening the top if you need to. Bake for 30 minutes.
Let it cool. Cut into 9 squares. When you are ready to ice, pop the white chocolate chips into the microwave for a minute. Unlike chocolate, melting it won't make it lose its luster so ice away! Top with remaining sprinkles.
Whether you pair these blondies with tea or coffee, tag us in your own creations @frozenbean! To enjoy later, put in an airtight container which will keep for a week.