S'more Frozen Hot Chocolate Drink Recipe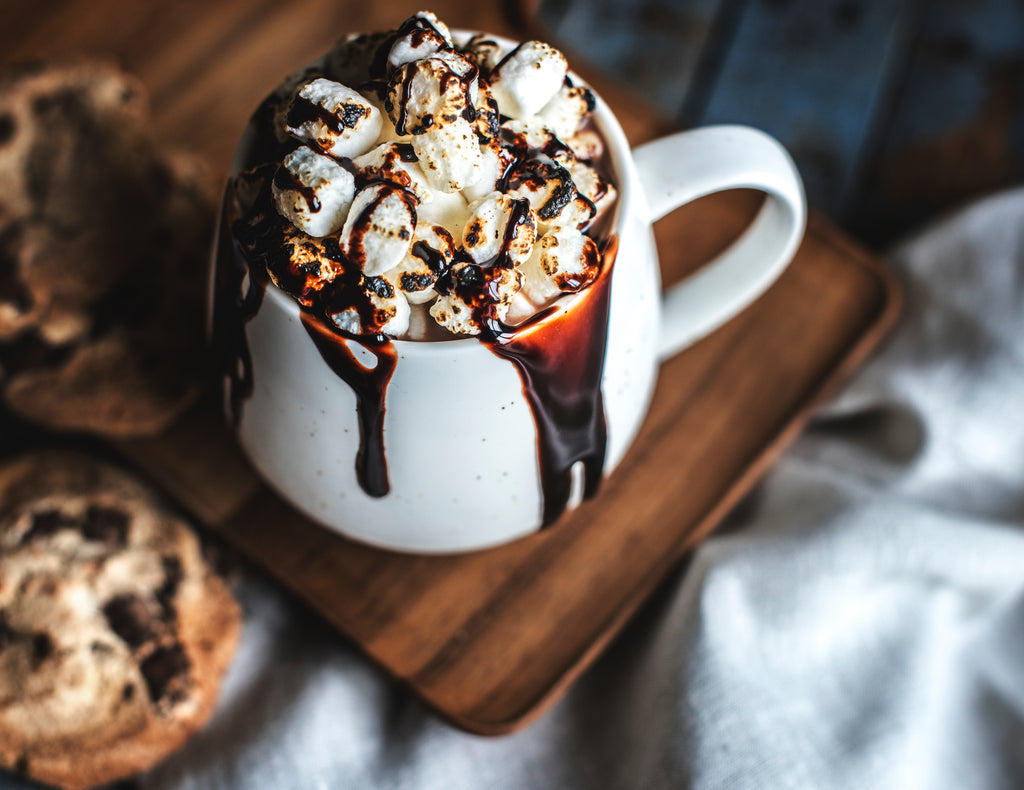 The Holidays are coming up, which means that it is time to get creative with your drinks! Over the next few months, we will be showing you easy to make unique creations that will surely WOW everyone at Holiday parties using our very own Frozen Bean mix. We will start o with something simple, yet delightful; a s'mores Frozen Hot Chocolate frappe. Sounds mouthwatering, doesn't it?
THINGS YOU NEED
Whipped Cream
Fudge Syrup
Caramel Syrup
Chocolate Frosting
Hershey's Kisses
Hershey's Mini Chocolate Bars
Pocky Sticks
Graham Crackers
Large and Mini Marshmallows
S'mores Oreo (Regular Oreo are good as well)
5 oz Milk
1 bag (2.8 oz) of Frozen Bean Frozen Hot Chocolate Mix
1 ½ cups of ice
Blender
---
Now let's get cooking! Or in this case, blending.
Pour 5 oz of milk into a blender, then pour entire bag (2.8 oz) of Frozen Bean Hot Chocolate mix in. Next, pour 1 ½ cups of ice over both the milk and the mix. Blend until smooth.
Pour the blended drink into your favorite festive glass/cup.
Next, with a spoon or a knife, spread a hefty layer of chocolate frosting around the rim of your glass/cup.
Stick Hershey's mini chocolate bars, as well as mini marshmallows across the entire layer of frosting.
Then, place your drink in the freezer while we work on the s'more.
Now let's make the s'more, you know the drill! Stick a large marshmallow onto a skewer and roast it over a flame.
Next, crack a graham cracker in half and place the roasted marshmallow in between the two halves along with two Hershey's mini chocolate pieces.
Now that we are done making the s'more, grab your drink from the freezer and top it o with whipped cream.
Drizzle both chocolate fudge and caramel on top of the whipped cream.
Next, add your s'more, Oreo S'mores, Kisses, and Pocky sticks all as garnishes. Lastly, sprinkle some crushed graham crackers on top of everything.
Voila, your creation is complete! Take a picture and show us how it turned out, and most importantly, enjoy!